Chief Instructor Chuck Marunde
Chuck Marunde has acquired a unique set of qualifications to become one of the most effective real estate trainers in the U.S. today.  Here's a bullet list of Chuck Marunde's experience:
Over 30 years in real estate

Real estate attorney for 20 years

Founder and Broker of Sequim & Port Angeles Real Estate, LLC and iRealty Virtual Brokers

Personally closed hundreds of transactions as an Escrow officer

Negotiated thousands of real estate transactions

National expert in foreclosures, short sales, private financing, complex negotiations

Author of 10 books, 8 of which are real estate books (paperback and ebooks)

Author of The New World of Marketing for Real Estate Agents
Author of The Sequim Real Estate Series books in the Apple iBookstore

Author of thousands of real estate articles, including over 1,800 on SequimRealEstateNews.com

Internet Marketing Consultant on Real Estate, SEO Expert

Awarded the Prestigious Five Star Real Estate Award given to less than 7% of 25,000 Seattle area agents & recognized in Seattle Magazine for accomplishments

Teaching Certification from University of Alaska and taught H.S. for 2 years before going to law school.
Has taught and spoken at hundreds of events.

Full Time Broker who practices what he preaches
Chuck Marunde's Email is chuckmarunde@gmail.com
Chuck Marunde's Direct Phone Number is 360-775-5424
Chuck Marunde's Real Estate Blog is at:  SequimRealEstateNews.com
Real Estate Qualifications
I've compiled a list below of skills a good real estate agent would have on the left side and compared that to many of the real estate agents that I have known and heard about around the country in 37 years in the business.  Which Realtor would you choose?  Of course, a good real estate agent doesn't necessarily have to have all of these qualifications, but the more the better.  Would not the most qualified instructor have this background on his resume? As you might guess, this chart is a list of my qualifications.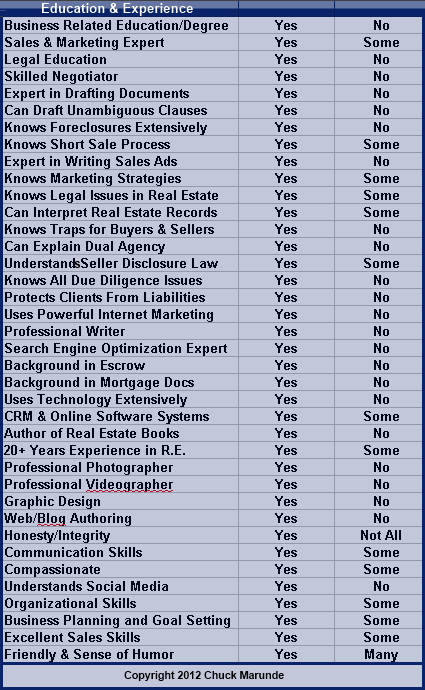 Client Testimony of Chuck as their Buyer's Agent:
A Few Testimonies about Chuck Marunde as a Buyer's Agent



Testimony 1
I've known Chuck Marunde for several years. My wife and I bought and sold one house through his services, and now have another listed through him for sale. Whether Chuck was representing us as the buyer or seller, I am confident he always had our best interests at heart. He helped us set or negotiate a reasonable price, and made sure there was a clear and open line of communication. He responded rapidly to email and phone calls and always knew the best person to contact for the various services involved in a transaction.  I have worked with quite a few real estate agents and Chuck is right at the top of my list of good ones. Actually, Chuck is first and foremost just a good person, and he carries his personal honesty and integrity over into his profession. He has the greatest depth of experience in real estate of any agent or broker I have known. His years of practicing real estate law prior to becoming a broker are evident in the meticulous care he takes with the process and documentation.  I am impressed by the way Chuck has integrated internet services into his real estate business. He probably knows more about this process than any other realtor in the country. In this tight market it is important to use every possible means to spread the word about available properties…to reach the few people who might be interested in a particular property.  Steve L.
Testimony 2
We contacted Chuck Marunde to be our buyer's agent for our purchase of a home in the Sequim area.  Throughout the entire process he was enjoyable to work with, and we found him to be exceptionally knowledgeable, thorough and diligent on our behalf.  He was in constant contact and always readily available and responsive by phone and email.  We were buying from out of state and unable to cover the various steps in the process, so we really appreciated Chuck's willingness to personally handle what we needed to have done.  He coordinated and attended the various inspections, followed up on our numerous questions and requests relating to the sale (including measuring rooms and sending photos), and even conducted the final walk through of the property for us.  We particularly valued his advice on a number of different issues that arose – and that he handled for us – during the transaction.   In short, we were very impressed with Chuck and would recommend him highly to anyone who is considering purchasing (or selling) in the Sequim area.  Ed and Sharlene
Testimony 3
"Chuck Marunde's level of expertise in real estate investment is amazing. His knowledge, experience and legal training have given me a dramatic advantage in real estate investing.  He works hard to stay on the cutting edge of real estate marketing, sound advice and value-added service for his clients."  Kirk Wald, Financial Planner
Testimony 4
"My husband and I had a serious deadline, and Chuck Marunde spent time educating us to the process of selling our home for the best price within our time constraints.  We really thought we could do it our way, but he showed us how to make it happen in our market and get where we wanted to be.  The result was we did sell our house in two weeks, and we were able to move to Hawaii in our critical timeline.  Chuck knows real estate, and he was so diplomatic with us while still telling us the truth and what we needed to hear."  Mary Ann
Testimony 5
"When Chuck Marunde told me I not only got a Realtor with decades of experience, but I also got his knowledge and experience as a real estate attorney for 20 years totally free, I couldn't believe it.  But it was true, and I strongly recommend Chuck to anyone dealing with real estate."  Susan
Testimony 6
I have known Chuck Marunde since he moved to our area and established his law practice from which he is now retired.  I have depended on my personal attorney, Chuck Marunde, to assist us in keeping the covenants of the Community current and to artfully arbitrate some contracts, the contents of which were either being ignored or misinterpreted.  I am not exaggerating when I aver that Chuck has been responsible—in part, of course—for improving and maintaining my quality of life and that of my neighbours.  He accomplishes this by his intelligence, diligence, and experience, all affected, or "leavened" if you will, by his overt honesty, responsibility, and forthrightness. He and I also agree that one of our greatest satisfactions in life is to share the bounty and good fortune we both have been granted with those less endowed or in need.  For example, he is the only Real Estate Attorney of which I have any knowledge who maintains a web page of free information for everyone, not only his clients, to consult about often asked questions and frequently encountered problems in regard to buying and selling of homes, land, businesses and the like.  Apart from the professionalism of which I spoke, Chuck is also the most moral, the most ethical, the most sincere person I have ever met.  Trust me when I say that in the Real Estate history of the Olympic Peninsula, Chuck Marunde is a welcome variance from the norm and I consider myself "blessed" to have met him and to have maintained a friendship during many of the past years.  Phil
Testimony 7
"Chuck helped me and my partner purchase a building we were renting for our large business.  There were a lot of complicated issues, including legal issues, but because of Chuck's experience as a real estate lawyer, he was able to help us get through an entangled mess.  Actually, he came up with a strategy that helped us buy our building, and we got rid of some liens, so we were able to pick up about $90,000 in equity immediately.  Where can you find a real estate agent that has that kind of experience?"  Bill
Testimony 8
We are ex-Washington residents who currently live in Arizona.  We had been searching the Puget Sound area four years for a waterfront property to build a retirement home when we first contacted Chuck Marunde through his website.  We had made multiple trips to various areas but most of the Realtors we contacted simply sent us an email, provided no follow up and did next to nothing to help us locate a property.
Testimony 9
On our first trip to Port Angeles, after connecting with Chuck, we purchased our dream property.  We now own a high bank waterfront lot overlooking the Straight of Jaun de Fuca, and are excited to become part of the Peninsula community.  Paul & Linda M.
__________________________________
Chuck Marunde Resume

Not-So-Brief-Synopsis (and more than you want to to know):
UNIVERSITY EDUCATION
University of Alaska, Fairbanks, Alaska
Major – Economics, Bachelor of Arts, 1976
Minor – Education w/Teaching Certificate (1979),
LEGAL EDUCATION
Gonzaga School of Law, Spokane, Washington, Juris Doctor – May 1985.  Admitted to Washington Bar May 1986
CHUCK MARUNDE LAW EXPERIENCE
Private law practice in Washington since 1986 with a four year stint as a JAG in the USAF. My private practice focused on real estate (with some time in estate planning, probate, litigation, and business development). I have advised thousands of real estate and business owners, investors, developers, builders, and Brokers.  I've also been intimately involved with an international technology company. I have created many businesses, their structures and long-term strategic development.
I have litigated issues around the state, drafted numerous contracts, and resolved hundreds of disputes amicably and through arbitration.  Credentials have also included Certified Estate Planner, Registered Investment Advisor (Series 7 and Series 66) and licensed in insurance and certified in long-term care.
May 1, 1991 to January 1993 – Area Defense Counsel, Nellis Air Force Base, USAF, Feb. 1989 to May 1, 1991 – Assistant Staff Judge Advocate, Nellis AFB, USAF. Positions included:   Government Prosecutor, Chief of Claims, Chief of Legal Assistance, Chief of Preventive Law.
AWARDS/RIBBONS: Training Ribbon, Outstanding Unit Award, Achievement Medal, Commendation Medal, Expert Marksman Ribbon, National Defense Ribbon. Plaque for Outstanding Performance as a Judge Advocate.  Quote from Commendation Medal, "His management skills and determination were matched by his precision as a trial advocate."
Chuck is on all social media, and you can Friend him on Facebook as well.